Sunrise Honey Company
2018 "5 Frame Nuc" Sale
We Will Begin Accepting
Orders after January 8th!
*Please See Our "5 Frame Nuc" Page for details*

*Delivery dates will be announced later but typically occur around the 1st or 2nd Saturday in April.*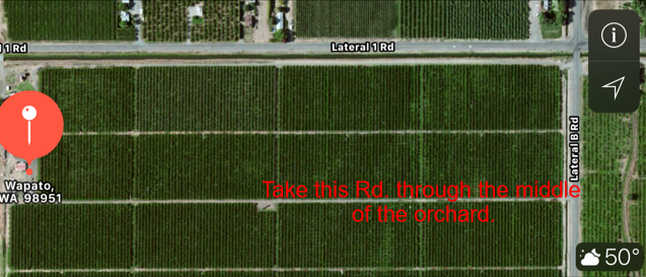 Central Washington Pickup Location
Please see the picture above as well as the map below.
From Hwy 97 in Wapato- travel West on West Wapato Rd. about 3.5 miles. Turn Right onto Lateral B Rd then go North about 2 miles.
Just before you get to Lateral 1 Rd you will turn into the apple orchard on your left.
There will be signs!
Follow the gravel Rd. through the orchard to the end. The Nucs will be in the open area on your right.
*See Map Below*
---

Spokane Area Pickup in Clayton, WA
"4616 Oregon Way, Clayton WA 99110"
From Spokane, Travel North on Hwy 395. Approximately 2 miles past Deer Park, turn Right onto Spotted Road. Travel North on Spotted Road approximately 3.5 miles then Turn Left onto Oregon Road. Continue on Oregon Road approximately 1.5 miles and we will be on the Right. Look for the "Red Shop" with the Green Roof. Nuc pickup will be down at the Red Shop below the House.
Please arrive between 8 AM and 12 PM.
*See Map Below*

100% Pure "Raw" Honey
Proudly Produced Locally
Our Family Has Been Beekeeping And Producing Honey In North East
Washington for nearly 40 years!! We guarantee a quality Product!!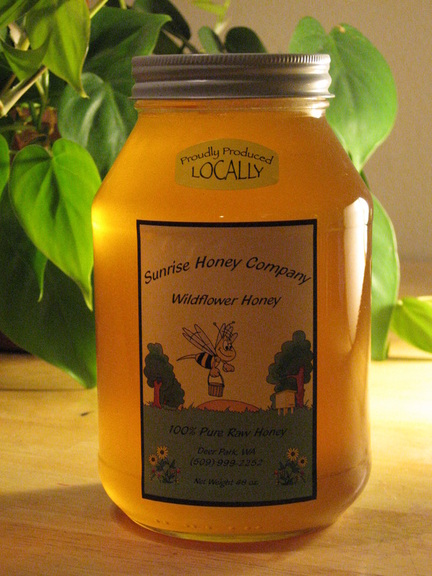 Our Honey is Pure Raw Honey, Produced from wildflowers right here in the Mountains and Farms of North East Washington, Nothing has been added and nothing has been removed!!
Our Honey is still in its "Raw" form meaning that it has never been Pasturized or filtered, only strained to remove wax!!
Raw Honey contains natural enzymes, pollens and healthy qualities that are usually destroyed and removed durring pasturization and filtering!